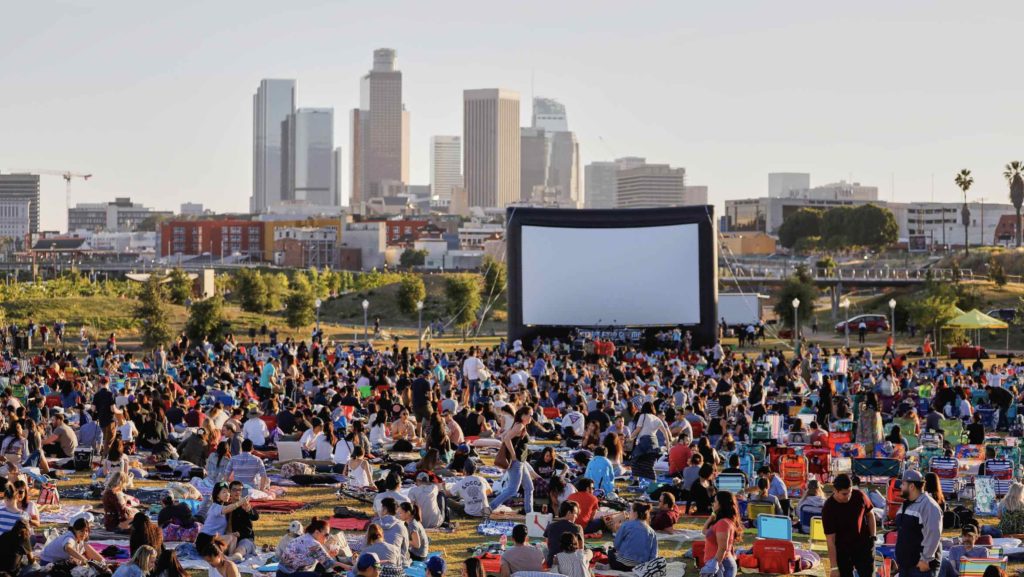 We may not have hit summer, but have you seen how many events are headed our way in Los Angeles? This might just be our biggest monthly guide ever!
As we hop into May in L.A. you'll find a Cinco de Mayo block party at Grand Central Market, Taco Madness at LA Plaza, the People's Kite Festival at L.A. State Historic Park, a Game of Thrones Concert at The Bowl, CicLAvia in Watts, Museums of the Arroyo Day, a Keith Haring exhibition at The Broad, Concerts in the Dome at Mt. Wilson, a Great Big Family Fun Day at The Autry, LitFest in Pasadena, and LOTS more. There is a ton to choose from (obviously) but whatever you decide, make it a good one!
Advertisements
Things To Do This May
SOAR at the South Coast Botanic Garden (starting May 1) –> South Coast Botanic Garden's beautiful bonanza of butterflies returns for its third year starting on May 1. The seasonal exhibit features hundreds of tropical butterflies not native to Southern California, and this for this year's event guests will also have a chance to perform a live feeding of the tiny beauties for an added $6 cost. Entry (which includes general admission to the garden) starts at $23. SOAR will be on display through August 31. More info here.
Pop-Up Magazine: One More Time (May 2)-> PUM's unique blend of live storytelling, music, and multimedia presentations returns to Ace Hotel Theatre for final time as part of the series' farewell tour. The special event features a collection of favorites from over the years with a lineup that includes Cord Jefferson (Station 11, Watchmen), Stephanie Foo (author, What My Bones Know), Jon Mooallem (New York Times Magazine), Brittany Spanos (Rolling Stone) and more. Tickets are $39. Show starts at 7:30 p.m. More info here.
Flux Screenings at The Hammer (May 3) -> The Flux screening series brings the creative community together to celebrate outstanding short films and music videos from around the globe with wildly inventive filmmaker presentations and performances. A courtyard party follows with live DJ and cash bar. Free to attend. More info here.
Cinco de Mayo Mercado (May 3) -> The City of San Gabriel celebrates Cinco de Mayo with an evening affair in the Mission District featuring live mariachi and folklorico, artisan vendors, plus specialty cocktails, sangria and beers for purchase at a beer garden hosted by Pez Cantina. Admission is free. Runs 6 to 9 p.m. More info here.
May The 4th Be With You at Scum & Villainy (May 4) -> Scum & Villainy Cantina hosts a May The 4th Be With You celebration handing out commemorative May the Fourth buttons to the first 100 guests starting at 10 a.m. The bar will be open from morning until 2 a.m. for the nerdiest day of the year celebrating with activities like trivia and a themed food and drink menu. Costumes are welcomed. More info here.
MADE in Beverly Hills (May 4-7) -> The four-day event includes over 20 events including home tours, educational programs, cocktail parties, and other special events that celebrate Beverly Hills architecture and design. Programing is a mix of free and ticketed events. More info here.
Skirball: Blacklist The Hollywood Red Scare (May 4-September 3) -> The Skirball Cultural Center unveils the new exhibition, Blacklist: The Hollywood Red Scare. The exhibit examines the history and impact of Hollywood's Red Scare frenzy, and the people caught in the crosshairs of The Blacklist. More info here.
First Fridays in Chinatown (May 5) -> L.A.'s Chinatown stays open late for an evening of exploring the unique small businesses and contemporary art and culture spaces that make up the historic neighborhood. Taking place from 5-9 p.m. the public is encouraged to support local restaurants and cafes while perusing shops and art galleries. Get ready to dance, special musical guests will be spinning vinyl all night long in Chung King Plaza. More info here.
Scent Fair L.A. (May 5-7) -> Scent Fair LA presented by The Institute for Art and Olfaction and Darin Klein & Friends comes the Craft Contemporary with a curated lineup of cutting-edge fragrance makers exhibiting their work, all paired with related programs and hands on workshops. The aromatic activities kick off with a preview night party ($35) on Friday, then ticketed events (some free, some up to $75 per person) continue through the weekend. More info here.
39th Los Angeles Asian Pacific Film Festival (May 4-13) -> Visual Communications 39th Los Angeles Asian Pacific Film Festival (LAAPFF) will feature a robust lineup of programming that includes a kick off party at the Japanese American National Museum, film screenings, special presentations and programing. Some events are free to attend. More info here.
CD14 Cinco De Mayo at Grand Central Market (May 5) -> Council District 14 and Grand Central Market team up to shut down Broadway between 3rd and 4th Streets for an all-day block party celebrating Cinco de Mayo. Expect live music and mariachi, plus guests can see what's on offer at GCM for DineL.A. or swing down to Grand Central Market Bazaar on the lower level. Festivities take place from 2 to 9 p.m. Free to attend. More info here.
Night Dive at The Aquarium of the Pacific (May 5)-> The Aquarium of the Pacific's signature adults-only, after-hours series returns with a Cinco de Mayo edition of the event featuring food trucks, cash bars, DJs throughout the Aquarium galleries, art, and a live band performing on the stage in front of the Honda Blue Cavern. GA tickets are $29.95. Runs 7:30 to 11 p.m. More info here.
First Fridays at NHM (May 5) -> Natural's History Museum's signature monthly series returns this Friday with an evening centered on the legacy of Asian pop-culture and the history of Giant Robot Magazine. There will be a special panel discussion featuring Giant Robot co-founders Eric Nakamura and Martin Wong, and a film screening of Artbound/Giant Robot: Asian Pop Culture and Beyond, co-presented by KCET. Plus you can catch outdoor sets by Arushi Jain and DJ ET IV along with cocktails and bites for purchase. Tickets are $20 for non-members. Runs 5 to 10 p.m. More info here.
L.A. County Fair (May 5-29) -> The L.A. County Fair returns to Pomona for an enormous assortment of activities, musical performances, food and beverage offerings, and more. The fair runs through May 29. More info here.
Jazz at LACMA (May 5, 12, 19, 26) -> Catch live jazz performances at LACMA's Smidt Welcome Plaza from 6 to 8 p.m. The series continues on Friday evenings through November. Seating is first come, first served. More info here.
BeachLife Festival (May 5-7) -> The two-day music festival takes place oceanside in Redondo Beach. Headliners include The Black Keys, Pixies, Gwen Stefani, The Black and many more. More info here.
 L.A. TACO's 14th Annual Taco Madness (May 6) -> L.A. Taco's annual extravaganza of taco tastings comes to LA Plaza de Cultura y Artes with a tantalizing lineup of the city's best taqueros, including Sonoratown, Villla's Tacos, Tacos Don Cuco, Evil Cooks, GoGo's Tacos, and more. Tickets range between $10-$70 depending on the number of prepaid food vouchers you get, and whether you want basic admission or early access. Event runs 5 p.m. to midnight. Get more info here.
Tres Souls at Union Station (May 6) -> As part of Metro Arts Presents, Tres Souls brings an afternoon of nostalgic bolero music to Union Station's ticket concourse this Saturday from 2 to 4 p.m. The L.A-based trio will serenade Angelenos with a special ambient performance referencing the golden age of Mexican Cinema (think: 1940s to 1960s). The music is free to enjoy for weekend commuters and passersby alikeMore info here.
Pedal Power: A Mobility Expo (May 6) -> There's a free family festival at Culver City's Ivy Station featuring a bike skills course for kids, a community ride, music, food, and plenty of bike friendly vendors/partners on hand including Walk 'n Rollers, CC Pride Ride & Rally, Bike Culver City, CicLAvia, LADOT, and more. Runs 11 a.m. to 3 p.m. Get more info here.
L.A. Made at Central Library (May 6) -> Beginning this past December, the Los Angeles Public Library launched a series of 150 days of activities and events to mark their 150th anniversary. On May 6, the months-long countdown concludes with an afternoon of standup comedy at Central Library's Mark Taper Auditorium featuring L.A.-based comedians Jesus Trejo and Chris Estrada. The set starts at 1 p.m. and is free to attend, but RSVPs are recommended. More info here.
Street Food Cinema (May 6 through October 28) -> The largest outdoor cinema event returns for its 12th outdoor season at a variety of locations all over Los Angeles County. A number of local food trucks are highlighted at each screening and before the movie, the public can enjoy live bands, audience games, themed photo ops, artisanal vendors, and at certain locations a full bar. Tickets start at $22. More info here.
Self-Care Yoga at CAAM (May 6) -> Meditation instructor Constance Hartwell returns for another free 60-minute yoga flow session at California African American Museum. All levels are welcome to attend, but be sure to bring your own mat and water. Runs from 11 a.m. to noon. More info here.
Multiculrural Arts Festival (May 6) -> Non-profit Elevate Burbank hosts a Multicultural Arts Festival featuring performers, artists, musicians, local food trucks, art show, food trucks, a kids' area, and select local vendors and nonprofit organizations sharing resources for the community. Free to attend.
Cinco de Mayo at The Rose Bowl (May 6) -> Celebrate Cinco de Mayo with a free family festival at The Rose Bowl featuring a community marketplace, live entertainment, sport activities and movie screenings. Free to attend. More info here.
2nd Valley Asian Cultural Festival (May 6) -> Asian American and Pacific Islander Heritage Month, the West Valley – Warner Center Chamber of Commerce is hosting the Asian Valley Cultural Festival at Pierce College in Woodland Hills. The event flyer promises food, music, dance, shopping, children's activities, and more. Free admission. Runs 10 a.m. to 4 p.m. More info here.
Desert Hearts Festival (May 6-7) -> Head to the Coliseum for house and techno sets from TIGA, Skream, Dusky, Claude VonStroke and dozens more. Tickets start at $79. More info here.
Unique LA Market (May 6-7)-> Shop small at Unique LA. Discover 150+ indie brands and artist under roof at the California Market Center. Tickets start at $15. More info here.
LitFest Pasadena (May 6-7) -> LitFest Pasadena returns for weekend of dynamic literary talks, workshops, readings and panel discussions and interactive literary experiences. Free to attend. More info here.
Great Big Family Fun Day (May 6-7) -> There's a kid-friendly festival hosted by SoCal Moms taking over the grounds of The Autry Museum in Griffith Park. Families can enjoy a day of storytelling, live musical performances, and family activities. Tickets range between $5-$10. More info here.
AAPI LA Market at Smorgasburg LA (May 7) -> Smorgasburg is highlighting Asian American & Pacific Islander Heritage Month by celebrating AAPI vendors and inviting special pop-up guests to the market. More info here.
3rd Annual Make Choice a Piece of Cake Fundraiser (May 7) -> Hosted by &Gather for Good and held at Redbird in Downtown Los Angeles the beloved event gathers talented pastry chefs and bakers in our city for a fundraiser for non-profits, Women's Reproductive Rights Assistance Project (WRRAP) and Plan C. The public will have over 40 beautiful cakes to win by Cake Walk, slices of cake for sale, craft cocktails, artisan coffee, music by Boogie Boudreaux (KCRW) and more. Happening 11 a.m. to 3 p.m. Tickets start at $25. More info here.
Pasadena City College Flea (May 7) -> The Pasadena City College Flea Market is free and open to the public every first Sunday of the month. Taking up multiple lots of the campus, vendors sell a variety of things including antiques and collectibles, to rummage sale-type items. 
9th Annual Taste of South Pasadena (May 9) -> Sample food along Mission and Fair Oaks and enjoy live music in a family-friendly atmosphere during Taste of Pasadena. Presented by the Rotary Club of South Pasadena the event features over 30 food and drink stops including an additional VIP section with 19 wine, beer and spirits participants. Tickets range from $20 (youths) to $65 for the full adult package of food and alcohol. More info here.
PSYCHO with the Hollywood Bowl Orchestra (May 12) -> The Hollywood Bowl Orchestra, led by conductor Constantine Kitsopoulos, will perform the music Alfred Hitchcock's Psycho live to picture at the Walt Disney Concert Hall. Tickets start at $45. More info here.
RuPaul's DragCon (May 12-13) -> Expect two days of all things drag via a series of panels, photo ops, meet-and-greets, shopping, performances, an after hours party, plus plenty of face time from the stars of RuPaul's Drag Race and RuPaul's Drag Race All Stars. Single day tickets range from $50 to $70. More info here.
Live Band Karaoke (May 12) -> Hosted by Casual Encounters and happening at Benny Boy Brewing, the public can belt out a selection of over 300 tunes in-front of the beer garden. No cover. More info here.
3rd Annual Community & Unity People's Kite Festival (May 13) -> Head to Los Angeles State Historic Park for the 3rd Annual Community & Unity People's Kite Festival. Hosted by Clockshop at Los Angeles State Historic Park, expect demos from kite masters, special workshops, curated snacks for purchase, and tons of colorful kites sailing through the sky. Free to attend, and donations welcome.
Game of Thrones Live Concert Experience (May 13) ->  Emmy Award-Winning composer Ramin Djawadi returns to The Hollywood Bowl with a special encore performance of the Game of Thrones Live Concert Experience. The immersive live show features Ramin conducting The Hollywood Studio Symphony Orchestra as they perform some of his most iconic melodies from the show. Tickets start at $29.50. More info here.
Grand Views at Forest Lawn (May 13) -> Forest Lawn Museum hosts an opening reception for their newest exhibit, Grand Views: The Immersive World of Panoramas, which explores the history of panoramas through an array of artworks and artifacts, including never-before-seen paintings, prints and posters dating to the 19th century, archival photographs, and more. Forest Lawn Museum is free to visit Tuesday to Sunday. Grand Views remains on view through September 10. More info here.
Bob Baker Theater at ESMoA (May 13) -> Puppets and puppeteers from the Bob Baker Marionette Theater stop by the El Segundo Museum of Art for a special live performance inside the gallery space. The 1-hour performance begins at 3 p.m. Admission is free. More info here.
A Current Affair (May 13) -> The pop-up vintage marketplace with a highly curated list of vendors from all over the state is taking over the Cooper Design Space in DTLA for a multi-decade shopping experience. More info here.
Advertisements
Just Like Heaven (May 13) -> Just Like Heaven returns to Brookside at the Rose Bowl in Pasadena with a line up that includes Yeah Yeah Yeahs, MGMT, Azealia Banks, Future Islands, Empire of the Sun, M83, Hot Chip, Caribou, The Walkmen and other acts. More info here.
Seltzerland (May 13) -> If sparkling beverages are your thing you'll want to grab tickets for Seltzerland happening at Downtown LA's Grand Park. Sip your way through dozens of brands, enjoy some games and bites with plenty of photo-op moments and seltzer swag in-between. Tickets start at $49. More info here.
Sunday Funday at The Wallis (May 14) -> The May edition of Sunday Funday at The Wallis features a kid-friendly performance by Mostly Kosher followed by a Vogue dance lesson from the Debbie Allen Dance Academy. Free to attend. More info here.
Concerts in The Dome (May 14) -> Mount Wilson Observatory launches the 2023 season of its classical concert series in May, hosted inside the historic 100-inch telescope dome, where the acoustics are said to be some of the finest in the world. There will be two musical performances, one at 3 p.m. and the other at 5 p.m., with an artists reception in between the shows at 4 p.m. Tickets are $55. The series takes place once a month from May through October. -> More info here
Flashback Retro Night Market (May 18) -> There's a Retro Night Market going down in the Arts District of DTLA with vendors selling all things retro from VHS tapes to vinyls, typewriters, clothing, and art. Admission and parking is free. More info here.
Metro's Bike Day (May 18) -> In honor of Bike Month, Metro is offering free rides on May 18 for commuters on all Metro buses and trains. There will also be a Metro Bike Share Bike to Work Day Celebration with complimentary food, coffee and swag for multimodal bike commuters from 8 to 11 a.m. at the North Hollywood B Line (Red) Station (May 18) and Downtown Santa Monica E Line (Expo) Station (May 19). More info here.
Cinespia (May 19-27) -> Every summer, Angelenos pack a picnic basket and head to the Hollywood Forever Cemetery for screenings of films modern, cult, and classic. This year Cinespia has moved to L.A. Historic Park for a bigger and more spacious screening environment. For the month of May films include Lord of The Rings: The Fellowship of the Ring, Mrs. Doubtfire and 10 Things I Hate About You. Tickets cost $22 per person. More info here.
Electrify Expo (May 19-21) -> This three-day event at the Long Beach Convention Center showcases the latest in the world of electric vehicles, offering guests test drives on demo courses, special exhibits, a lineup of experts to chat with, and even a kids zone. Tickets for the public days (Saturday and Sunday) cost $20. More info here.
Bidstitch Flea Market (May 20) -> Bidstitch Flea Market returns in May with another steller line-up of vintage sellers highlighting their goods in the heart of Old Town Pasadena. Admission is free. More info here.
Cruel World Festival (May 20) -> The music festival returns to Brookside Park in Pasadena with headliners Iggy Pop, and Siouxsie with a supporting lineup that includes Billy Idol, Love and Rockets, Echo & the Bunnymen, Gary Numan and more. Tickets starting at $159. More info here.
Off The 405 at The Getty (May 20 – August 26) -> The Getty's annual summer concert series returns with evening DJ sets and musical performances once a month through August. Each event is free to attend, but reservations are required and can be made three weeks prior to each performance. Next up: SPELLLING along with DJ Zuri Adia on May 20. More info here.
NHM's Bug Fair (May 20-21) -> The Natural History Museum gets buggy with a weekend-long event highlighting exotic insect collections, bug-inspired artwork and jewelry, bug-tastic crafts, live animal demos, and bug-related products such as honey and silk.  Get more info here.
Beverly Hills Art Show (May 20-21) -> Over 300 artists are expected to participate in the Beverly Hills Art Show this year. Taking place in Beverly Gardens Park the event is free to attend and includes a wine and beer garden, demonstrating artists, children's activities, gourmet food trucks and several community exhibits. More info here.
EEEEEATSCON (May 20-21) -> The Infatuation's signature food fest comes to the Santa Monica Barker Hangar with a bevy of top restaurants from L.A. and the East Coast under one roof, plus live music and plenty of panels. GA tickets start at $30, but you'll still have to pay for food samples once you're inside. Get more info here.
Artazan (May 20-21) -> Artazan comes to the Pasadena Convention Center for a two-day event exploring all things hand crafted. Over 200 exhibitors are participating from jewelry to woodwork, ceramics, clothing and food. Tickets cost $8. More info here.
CicLAmini Watts (May 21) -> The second CicLAvia event of the spring heads to Watts for a "mini" course that runs north on Central Ave, then east along 103rd. Expect the usual pedestrian-oriented experience featuring activities such as self-guided walking tours, scavenger hunts, street games, local business engagements, and art and cultural activities along the entire 2-mile open streets event. Runs 9 a.m. to 3 p.m. Free to attend. Rain or shine event! More info here.
Museums of the Arroyo Day (May 21) -> Five museums and historic homes along the Arroyo Seco offer free admission for the annual Museums of The Arroyo Day. Participants include The Gamble House, Heritage Square, the L.A. Police Museum, the Lummis Home, and the Pasadena Museum of History. Free shuttles connect museums for those who want to visit multiple locations. Runs noon to 5 p.m., with last admission at 4 p.m. More info here.
Party/After-Party Sessions at MOCA (May 25) -> Party/After-Party Sessions offer a series of three concerts featuring live sets from globally acclaimed DJs. Presented in conjunction with his exhibition, Carl Craig: Party/After-Party, these concerts celebrate the legacy of techno and forefront the artists who have pioneered the genre. Tickets are $15. More info here.
Advertisements
Africon (May 25-28) -> This four-day conference celebrates the African Diaspora through a series of panels, chats sessions, and social gatherings, culminates with an Afro Music Festival headlined by Asake. Get more info on the full schedule of events and locations here.
L.A. Fleet Week (May 26-29) -> This year's L.A. Fleet Week celebrates our nation's sea services with a week of special performances and forums, culminating in a four-day expo on the waterfront in San Pedro that includes live entertainment, ship tours, aerial demos, and more. Get the full schedule of events here.
The Broad Presents Keith Haring: Art is For Everybody (May 27) -> The Broad will display over 120 artworks and archival materials of the late New York artist and activist Keith Haring. The specially ticketed "Keith Haring: Art is for Everybody" exhibit will explore Haring's work centered around nuclear disarmament, the HIV/AIDS crisis and more. In conjunction with the show, the free permanent galleries upstairs will display works from Haring's contemporaries, including Jean-Michel Basquiat, Jenny Holzer, and Andy Warhol. Runs May 27 to October 8. More info here.
Mama's Nightmarket (May 27) -> Not your average foodie event, Mama's Nightmarket highlights under represented mom and pop restaurants that have served their communities for decades. The theme for spring is "LA street food" and every dish will be under $12. Restaurants keep 100% of their profits from the event and a portion of proceeds will also be donated to @heyrespectyourelders, a nonprofit organization focused on feeding seniors in minority communities while supporting local restaurants. Tickets start at $34 for GA and go up to $125 for VIP. More info here.
Fiesta Hermosa (May 27-29) -> Memorial Day weekend in Hermosa Beach means one thing: Fiesta Hermosa! This May's three-day festival features a marketplace with over 250 vendors, live music and a carnival. Admission is free. More info here.
Topanga Days (May 27-29) -> The annual fundraiser festival for the Topanga Community Center returns over Memorial Day weekend for two days of games, food and live music, capped by a Memorial Day parade. Adult single day tickets start at $25 per person. More info here.
MAINopoly (May 27) -> Board game meets food fest at the 8th annual MAINopoly, taking place this on Main Street in Santa Monica. Advance GA tickets start at $30 per person, which get you an allotment of credits (MAINopoloy dollars) you use to pick up bites at restaurants up and down the block. Each spot you visit helps fill up your game board which offers a shot at prizes. Runs 1 to 5 p.m. More info here.
Corgi Nationals (May 28) -> The Corgi Nationals hosted by the folks behind So Cal Corgi Beach Day is a day celebrating the athleticism of corgis. Taking place on the field of Santa Anita Park, see corgis race for the top prize, and in between check out Corgi-centric vendors, carnival rides, and food vendors. Tickets start at $12. More info here.
Torrance Antique Street Faire (May 28) -> Check out over 200 antique and specialty sellers every fourth Sunday of the month. The fair also features an antique appraisal booth and live musical entertainment. More info here.
---
Want to get the best things to do in L.A. sent straight to your inbox? Join over 60,000 Angelenos who subscribe to our twice weekly email newsletter!
By subscribing, you agree to our terms of use and privacy policy and consent to receive emails from We Like L.A. about news, events, offers, and partner promotions.
Advertisements