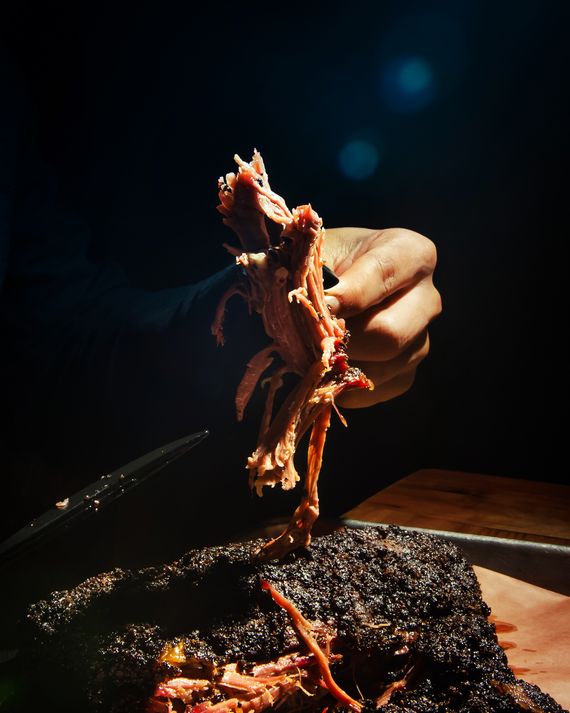 Between the last time Adam Platt distilled a year's worth of dining out into a mouthwatering guide to the city's restaurant scene and now, much — if not everything — has changed. Still, even in an era of unparalleled challenges, the industry continues not only to rebound but somehow, against all imaginable odds, to surprise and delight. Here, our critic shares his experiences being a professional eater in the age of pivots, pop-ups, and streeteries and celebrates his 12 favorite new restaurants of the year (including the Bronx's Hudson Smokehouse, pictured here with its Saturday-only beef rib).
Back during the dim, distant pre-COVID days when year-end dining wrap-ups like this one were concocted, the idea was to give our readers a sense of the latest breathlessly trendy dishes and dining fashions in a city that viewed itself as the restaurant capital of the world but also, in a strange, jaded way, took that culture for granted. Now, as one ominous virus wave replaces another and the COVID plague continues to hover like a persistent fog over the city, the opposite is true: That invisible web of community and spirit and identity of the great network of chophouses, haughty gourmet destinations, ramen parlors, red-sauce joints, frozen-dumpling depots, and Peking-duck houses has never felt stronger or more central to the sense of health and well-being of the city. When people ask me where to eat now, my answer is "Everywhere."
After the lockdowns and pantry diets and freezing half to death in tattered outdoor dining shacks just to get a fix of a well-made bánh mì or a bowl of soup or a properly mixed martini, 2021 was a year of little miracles for those of us who spend our time obsessing over where to find all the best and most delicious things to eat (and drink) around this great dining city. It was the year in which addled, overfed restaurant critics put down their poison pens (except concerning gourmet tasting menus and certain radically overpriced vegan joints), threw away their lofty star systems, and gave thanks for all the small pleasures we had missed, like a couple of eggs over easy (with fresh orange juice) at the local diner on a weekday morning, or early-evening drinks with a friend or two at the back of a dark and empty bar, or the sense of happy anticipation one gets when one sits down in a crowded restaurant and surveys a new menu for the first time.
Like many avid big-city eaters, I found myself making up for lost time in 2021 by going on mad benders through the familiar pizza meccas of Brooklyn (the simple margherita slice at L'industrie) and restorative wonton and noodle excursions to the old favorite haunts in Manhattan's Chinatown (frozen dumplings at Shu Jiao Fu Zhou, the shrimp-wonton soup at Great N.Y. Noodle Town). I swilled martinis at crowded bars in Brooklyn (the Rockwell Place), sipped juniper-flavored soju negronis with my tray of Korean-style kimchee-brined fried chicken (at the excellent Porcelain in Queens), enjoyed furtive omakase dinners at big-ticket sushi dens in Tribeca (the young Tokyo sushi master Shion Uino's eight-seat counter at 69 Leonard Street), and merrily consumed so much vegan and plant-based cuisine that some of my old beef-eater colleagues called to inquire if I was all right.
This was also the year in which old restaurant veterans like me found ourselves wandering around town like London constables sifting through the rubble after the Blitz, noting the favorite places that had disappeared (of which there are many) and checking on how others were surviving. In my neighborhood, a new operation called Gotham has replaced the old Gotham Bar and Grill on 12th Street, and some restaurants are doing more business than they were before thanks to the outdoor dining rooms, many of which are strung, like river barges, with bright lights and garlands of plastic flowers. Before this latest Omicron wave, Broadway's Restaurant Row, on 46th Street, was buzzing again, at least for a while, and the grand chefs in the neighborhood, many of whom had the deep-pocketed backers to outlast the first long COVID winter, told me their biggest problem was finding the staff to feed all the people clamoring for reservations.
These staffing problems won't disappear anytime soon, of course, and as with other industries struggling with COVID around the city, the long-term survival of restaurants will hinge on fundamental things like money and location. "We've had our best month ever," the bartender at a prosperous Michelin-approved establishment told me when I dropped in for a drink not long ago, though a couple of blocks west, the Vendy Awards winner MD Alam said business at his excellent halal cart on 44th Street and Sixth Avenue had ticked up only slightly over the past year, and unless the mass of office workers returned, he doubted he would make it through another winter. "We used to have four carts and four cooks lined up here on the block," he said as he twirled up my usual chicken–tikka kati roll, which at $7 is one of the best culinary values in the city, "but I'm afraid these days the only person here is me."
What sorts of dining fashions and trends have we divined in this slow twilight world of recovery, as spooky new variants continue to emerge from across the sea and the reality of another long winter season once again begins to set in? As it has everywhere else, COVID has supercharged some trends (restaurant pantry shelves, outdoor dining, overpriced roasted beets as an entrée) and mercifully blasted other, tired ones into oblivion. Lugubrious four-hour tasting menus are out, and the comfort and simplicity of freshly baked bread or a bowl of Tuscan bean soup, say, or a smoky, wet lamb-birria taco devoured in the cold outdoors are in. The haute French-based gourmet model has had a good long run in the upper echelons of the city's culinary scene, but who wants to spend cash on the same old fussy recipes when New York is alive with a rainbow of interesting new kitchens serving food from Iran, or the mutton-rich Indian region of Bihar, or the Aegean Sea?
You'll find a patchwork of these flavors, styles, and fashions represented in our highly subjective roundup of one critic's favorite new restaurants of the past year. There are tiny former pop-ups on our list and improbably delicious big-money ventures. There's a wonderful vegan soul-food spot that I wish were several blocks nearer to my apartment and a great barbecue destination in the Bronx that my doctors are happy to have as far as possible from their patient's usual feeding grounds. There's a restaurant serving regional delicacies from the far corners of India and another that makes you feel like you've woken up from a bad dream and are dining among the old chophouses and oyster shacks of Brooklyn ca. 1952. Are there other worthy establishments not on the list? Of course there are. And there will be plenty more in 2022 because the one thing that will never vanish, as anyone who has stuck around in Brooklyn or the Bronx or the fancy Zip Codes of Manhattan over these past two star-crossed years will tell you, is that irrepressible New York City appetite for a good meal.
372 Fulton St., nr. Smith St., Downtown Brooklyn; 347-689-3677
Gage & Tollner's baked Alaska.
Photo: Dina Litovsky
There are probably more stylish new restaurants around the city and places serving more elaborate desserts or impressive cuts of beefsteak. But none of them embodies the spirit of perseverance, community, and revival during this grim chapter in the city's history quite like St. John Frizell, Ben Schneider, and Sohui Kim's reimagining of this venerable New York dining landmark, which began life back in 1879 among the oyster stands and beer halls along Fulton Street. With its rows of giant antique hat hooks and vintage gaslight chandeliers hanging from the ceiling, the room, which took over a year to restore and was crowdfunded by legions of local friends and neighbors, is one of the wonders of this strange restaurant season. When you're seated in a spacious booth, be sure to explore Frizell's drinks program (get a martini or a Rob Roy) and the traditional dishes on Chef Kim's eclectic, accessible menu (the bone-in rib eye, the crab cake, the old-fashioned clam-belly broil updated with a touch of miso). Go also for the ambience, which, on a busy Saturday evening, when the room is filled with alte kakers from the neighborhood savoring their roast-chicken dinners and young Bushwick swells sipping cocktails at the bar, manages to feel both familiar and uniquely new at the same time.
Read the full review ➼
119 Delancey St., at Essex St. 212-204-8616
Dhamaka's goat-neck biryani.
Photo: Dina Litovsky
Since the success of their hit Long Island City canteen, Adda, a couple of years back, Chintan Pandya and Roni Mazumdar have opened two more crowded, successful restaurants designed to push New Yorkers out of their normal tandoori-chicken-loving, masala-slurping comfort zones into regions of the "unapologetic Indian" dining culture where many of us rarely go. But this festive, groundbreaking establishment on the northern edge of the new Essex Market building is the only one where you can find bubbling pots of mutton prepared the way the mutton chefs in the East Indian state of Bihar do it along with helpings of curried dogfish, a specialty from the coastal villages around Mazumdar's hometown of Kolkata. The dining room is decorated with modish murals and set with slightly too small café-style tables, but if you're in the mood for a proper gastronaut feast, book your seats in the enclosure outside, which is strung with bright lights and covered with the kind of corrugated-metal roof you see at streetside venues around India. Pay special attention to the under-$20 bar and street-food snacks — the Kashmiri lamb ribs; the fried pomfret from Mumbai; the spongy, eggy chhena poda dessert from the state of Odisha — that in this uncertain era of limited travel make you feel, at least for a little while, like you're out exploring the great wide world again.
Read the full review ➼
87 Macdougal St., nr. Bleecker St.; 929-367-7370
Turbot for two at Dame.
Photo: Dina Litovsky
This snug little seafood spot down on Macdougal Street began life during the depths of the pandemic as a pop-up serving comfort-starved New Yorkers an artful version of what is arguably the greatest of all U.K. comfort creations: fish and chips. The fish and chips remain on the small, ever-changing menu, but depending on the season and the catch in the market, you can also get grilled oysters spooned with hollandaise, generous helpings of tuna tartare and bottarga set on wedges of country toast, and piles of that great Anglo-Indian rice dish kedgeree, which was folded, the last time we checked, with nuggets of curried monkfish. Chef-partner Ed Szymanski grew up in the London of Fergus Henderson's St. John and Ruth Rogers and Rose Gray's River Cafe, and he has a knack for the kind of stylish, umami-laced gastropub recipes that have a way of rattling around in your brain for weeks and even months after the actual meal. We're still thinking of the smoked-whitefish croquettes and the turbot for two, an occasional special, that the kitchen smothers in garlic butter and roasted cockles and serves in proper London style on an antique hubcap-size blue-and-white china plate.
Read the full review ➼
19 St. Marks Pl., nr. Second Ave.; 646-858-1866
Wine-soaked crab at CheLi.
Photo: Dina Litovsky
This unlikely restaurant, which appeared among the jumble of noodle stands and cafés along St. Marks Place just months after the end of the COVID lockdown, is the brainchild of chef Qiling Wang and his pastry-chef partner, Fang Fang, both of whom grew up on the delicate Hu-style cuisine originating in the old "water towns" that dot the canals and riverways outside Shanghai. With its old-fashioned tables and thatch-covered dining nooks filled with families up from Chinatown and groups of students chatting in Shanghainese and Mandarin, the room feels like it's been transported, more or less directly, from some elaborate food court in the outer suburbs of Shanghai. Chef Wang's menu includes easily the best xiao long bao of this dumpling season along with interpretations of regional delicacies like small plates of braised pork belly, smoked fish and duck, and "wine soaked" blue crab from the Atlantic scattered with flower petals. As one of my daughters pointed out, you could spend weeks exploring these savory dishes, but save room for Fang Fang's desserts, in particular the soft, pillow-shaped Song-dynasty steamed bun, which is brought to the table in a large steamer basket and cut in pie-slice-size wedges like some ancient, ethereal form of angel-food cake.
Read the full review ➼
137 Ave. A, nr. 9th St.; 646-422-7729
Rosella's crudo verde.
Photo: Dina Litovsky
At this inventive, locally sourced sushi destination in the East Village, the owner, Jeff Miller, takes the stuffy, elite, ever-more-expensive Tokyo-style omakase experience and turns it merrily on its head. Instead of the usual dour collection of sushi bros, regulars from the extended neighborhood tend to fill the counter at the stylish, wood-toned room across from Tompkins Square Park. Unlike most sushi masters around town, Miller has a taste for Brazilian funk and old anthems by the Clash, and because he studied the intricate art of nigiri in Austin via Florida and Australia — instead of, say, Osaka or Tokyo — he is free to experiment without being bound by the formal traditions of the past. You'll find coconut-flavored ceviches made with albacore from New Jersey when it's in season and spicy tuna rolls stuffed with jalapeño peppers and ribbons of mango. A single, expertly fashioned serving of nigiri made with the local catch costs roughly a third of the price of fish flown in from Tokyo or Spain. Add in other local specialties (smoked steelhead trout from upstate; fat sweet scallops from Montauk or Maine), plus Miller's classic, generally impeccable technique (the rice is mixed daily with a special blend of vinegar and sake), and we finally have a top-line sushi dinner that feels less like a forbidden pleasure than a glimpse into a more promising, sustainable future.
Read the full review ➼
122 E. 7th St., nr. Ave. A; 833-328-4588
Buffalo-oyster-mushroom sandwich at Cadence.
Photo: Dina Litovsky
With only ten dishes on the menu, six of them costing under $20, Shenarri Freeman's pint-size East Village experiment in plant-based "southern soul" cooking wins this year's coveted pound-for-pound, dollar-for-dollar best-restaurant award, and the competition isn't even close. Freeman comes to New York by way of Virginia, and her particular brand of down-home vegan cuisine is informed by her top-notch classical training and the bountiful Sunday-church-picnic culture of her youth. You can get a crunchy wedge salad doused with nondairy ranch dressing at the 12-seat dining counter here; bowls of smoked grits garnished with frizzled shallots, among other elaborate things; and great mounds of potato salad, made with red potatoes, according to Freeman's mother's family recipe, mixed together with hints of Dijon mustard, dill, and that surprisingly palatable substance called Vegenaise. If one of the freshly baked house pies is on the dessert menu, order it, and the same goes for Freeman's ode to the crispy Buffalo-chicken sandwich, which she constructs with crisped oyster mushrooms instead of the usual fatty pale chicken, squeezing them with avocado, pickles, and spoonfuls of ranch dressing between a toasted pretzel bun.
Read the full review ➼
1740 Broadway, nr. 56th St.; 212-970-1740
Lamb chops at Iris.
Photo: Dina Litovsky
"Aegean" cuisine is the theme of this polished John Fraser operation, which opened, somewhat miraculously, at the bottom of a mostly empty office building on 56th and Broadway at a time when many formerly bustling midtown restaurants were either closed down or struggling to keep afloat. Fraser grew up in a Greek American household, and the menu here is filled with dishes inspired by the estimable kitchens along the Greek and Turkish coasts. If you're in the mood for a lighter meal, go at lunchtime and call for the Greek meze platter bolstered with freshly baked pita made with sourdough and tear-shaped Turkish-style flatbreads, which the kitchen braids around the edges in the traditional way and tops with spinach or squash. The lamb chops are some of the best in the neighborhood, provided your budget covers the $65 they cost, but the real specialties of the house are the seafood dishes, like whole red snapper baked in grape leaves, grilled octopus sweetened with candied kumquats, and a classic boureki pastry stuffed with Alaskan salmon and topped, in the hopeful big-spender mood of this not-quite post-COVID era, with a spoonful of caviar.
Read the full review ➼
100 Manhattan West Plz. (385 Ninth Ave., nr. 31st St.); 212-219-6559
Ci Siamo's pork Milanese.
Photo: Dina Litovsky
Like many new ventures in Danny Meyer's more recent, real-estate-influenced fine-dining portfolio, this midtown establishment (whose name means "Here we are" or "We've arrived" in Italian) is located in an out-of-the-way part of town — a glittering but soulless new plaza at the back end of Hudson Yards — that is almost impossible to find (pro tip: If your Uber driver attempts to enter the Lincoln Tunnel, start yelling). But once you've finally arrived at the dining room, with its long bar, comfortable rows of banquettes, and open kitchen smelling faintly of woodsmoke, you'll be glad you made the trip. The chef in charge of the various state-of-the-art wood-burning ovens and grills is the talented Hillary Sterling, formerly of Vic's, and her slim, one-page menu has clearly been engineered to lure New Yorkers out of their collective COVID stupor and get them to start slowly enjoying the pleasures of a good restaurant meal again. Turn your attention toward the onion tart, the puffy wheels of focaccia baked in iron skillets, and the simple roast half-chicken, which Sterling fires on a bed of crushed sunchokes and pours with generous amounts of house-rendered schmaltz.
Read the full review ➼
1 Rockefeller Plz., at 49th St.; 212-597-2735
Pork sausage at Lodi.
Photo: Dina Litovsky
Ignacio Mattos has dabbled successfully in many different genres and cuisines during the course of his big-city career, but the beauty of this impeccably realized Milanese- (or Roman- or Florentine-) style café, which opened a couple of months ago among the great gray towers of Rockefeller Center, is its unique combination of quality and versatility. It's a glittering Italian cappuccino parlor, a pastry and panini shop, and a first-class bakery all rolled into one, though if you want to experience the deeper pleasures of the place, take a seat in the covered "Terrazza" at the leisurely Italian lunchtime hour of, say, 1:30 p.m. and begin working your merry way through the all-day café menu. You'll find tangy eggplant caponata and ribbons of 30-month-aged ham from Parma meant to be devoured with squares of just-baked focaccia. The soup of the day could be a Tuscan brodo made with country beans or shreds of cabbage with crumblings of pork at the bottom. The vitello tonnato might be the finest example of this much-abused dish that you've tasted in years. And if it's Friday, go for the tender, crackly skinned house porchetta, which the chef de cuisine, Maxime Pradié, seasons with clouds of fennel pollen the way the great pork masters do in Tuscany.
Read the full review ➼
136 Broadway, at Bedford Ave., Williamsburg; 718-218-7572
Francie's crown of duck for two.
Photo: Dina Litovsky
You can sip retro Cosmo cocktails with your crudités at this unabashedly posh throwback in Williamsburg, where the co-owner and front-of-house man, John Winterman, claims his antique cheese cart is the last one operating in the city. Winterman's chef-partner, Chris Cipollone, is also a traditionalist, though he has a talent for taking slightly dated recipes and ingredients (lobster, pork chops, roast duck, caviar) and making them new again. There are blinilike soufflé cakes on the menu dressed with combinations of caviar and seaweed butter and a superior vegetarian pastry pithiviers stuffed with a variety of ingredients like truffles, porcini, celery root, eggplant, and pistachios. Many of the sneakily opulent pastas are worth the price of admission (pork or sweet-potato-stuffed tortelli sprinkled with bits of crackling, the saffron-flavored lobster ravioli), and if you're a fan of very large pork chops, the fat, pepper-smothered heritage chop is, too. But the finest throwback creation of all, and the main reason this restaurant makes our list, is the crown of duck for two, a grand dish preferably washed down with a frosty New Year's bottle of grand cru Champagne.
Read the full review ➼
37 Bruckner Blvd., nr. Alexander Ave., Mott Haven; 718-872-7742
Hudson Smokehouse's Saturday-only beef rib.
Photo: Dina Litovsky
The unlikely proprietor of this boisterous South Bronx barbecue joint is Kenneth McPartlan, a self-taught pitmaster whose family has run a saloon in the northern part of the borough for three generations. He'll tell you there are all sorts of bar snacks (four kinds of fried-chicken sandwiches, a classic smash-burger, a multitude of smoked chicken wings) to sample "in case the meat runs out, which happens a lot," but we strongly suggest you do everything possible to get there in time for a taste of the pork ribs, or the rib tips, or the pork-belly burnt ends, which McPartlan and his sous-chef, Bilal Muhammad, smother in their own special sweet sauce and serve in the kind of little paper boats you'll find at revered barbecue destinations south of the Mason-Dixon Line. The side dishes (collard greens, baked beans, pork crackling, two varieties of coleslaw) and dessert (banana pudding) are also worth a special trip, but if you make just one pilgrimage, do it on a Saturday, when McPartlan smokes up his version of Hill Country–style bone-in Texas beef ribs for 16 hours overnight; crusts them in salt, pepper, and a radical dose of garlic salt; and sells them until they're gone.
Read the full review ➼
Pier 17 at 89 South St.; 212-280-4600
Carne Mare's smoke-roasted beet steak.
Photo: Dina Litovsky
All the usual tropes of the chophouse experience are on display at Andrew Carmellini's lavish tribute to the expense-account feasts of pre- COVID New York: the whale-size banquettes; the giant, elaborately scripted menus; the downstairs bar crowded, especially in the early evening, with hordes of portly, red-faced creatures of Wall Street hoisting their single malts and goblets of wine in preparation for the imminent slab of outrageously priced beef. But if you found yourself secretly pining, as we did, for a properly sizzled New York City steak during the long lockdown months of dried-out ramen packets and cans of chili beans, you won't find anything better than the house prime rib, seasoned on its exterior with the kinds of herbs and spices usually reserved for the finest porchetta, or the Wagyu strip loin, which is ingeniously cured in a coat of Gorgonzola cheese and arguably worth its $110 sticker price. The best of the fish dishes (the swordfish, the salt-baked sea bass) are done with the kind of polish you'd expect from a downtown seaport establishment, and the 12-ounce smoke-roasted beet steak is garnished with a dollop of melting goat butter and carved tableside with all the grandeur of a fine rib roast.
Read the full review ➼
Want more stories like this one? Subscribe now to support our journalism and get unlimited access to our coverage. If you prefer to read in print, you can also find this article in the January 3, 2021, issue of New York Magazine.