This website may contain affiliate links and advertising so that we can provide recipes to you. Read my privacy policy.
This list of healthy air fryer recipes is filled with delicious vegetables and meals that your whole family will love! With an air fryer, you don't have to cook everything in oil to get that deliciously crispy texture!
I love cooking with my air fryer, and if I can make it healthy, that's even better! Try out some of my favorite air fryer recipes like this easy air fryer broccolini, this yummy "roasted" cauliflower, or these delicious potato wedges.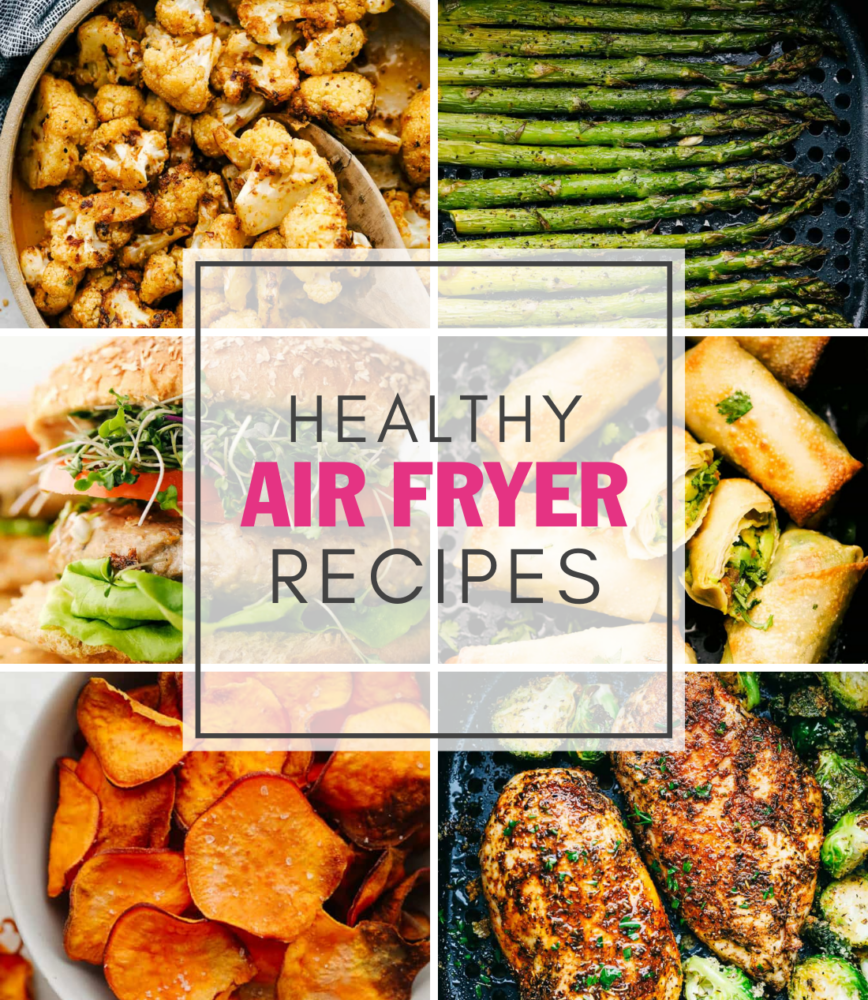 Healthy Air Fryer Recipes Roundup
Using an air fryer is a great way to get that delicious taste and texture of fried foods but without any of the fat! It's no secret that I love my air fryer. I view it as the best kitchen appliance because it can not only cook just about anything but… The cleanup is easy! Plus, it makes unhealthy foods a bit healthier since you aren't using oil to fry them up!
This roundup is full of healthy air fryer recipes that you can use as sides, entrees or even as snacks. The air fryer is so easy to use. Even my kids can make a bunch of recipes on their own with it! So if you don't have an air fryer yet, you need to get one! It will be worth your while, and after reading through all of these recipes, you won't be able to resist!
Tips for Cooking with an Air Fryer
There are a few things that you should keep in mind when you are cooking with an air fryer! I've come up with a list of my best tips so that no matter which healthy air fryer recipe is, it will turn out fantastic for you!
Shake: It's always important to shake your basket (or flip your food) halfway through the cooking process. This helps so that your food doesn't stick together and will get that crispy texture on all sides.
Don't Overcrowd the Basket: The last thing that you want to do is cook layers upon layers in the air fryer. It's best to cook small batches in one layer at the bottom of the basket. When you overcrowd it, then your food sticks together and will turn out soggy and mushy.
Preheat the Air Fryer: Just like your oven, your air fryer recipes will turn out the best if you preheat your air fryer! If you don't have a preheat button, then just turn it on for about 2-3 minutes to the temperature that your food needs to cook at. Getting it nice and hot before you start will help your food not be undercooked when it's done!
Air Fryer Broccolini
This super-easy side dish is delicious, full of flavor, and has the perfect crispy crunch on the outside. This air fryer broccolini takes less than 10 minutes to make and can be paired with just about any meal! 
Ingredients: Broccolini, Olive Oil, Garlic, Lemon Juice, Shredded Parmesan, Salt and Pepper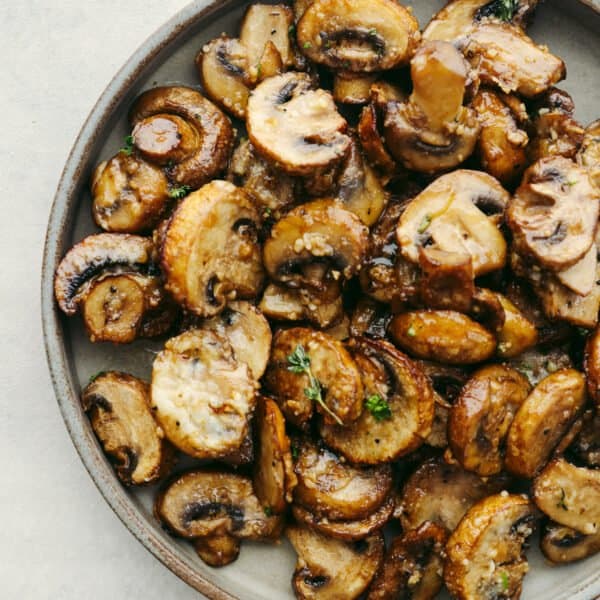 Air Fryer Mushrooms
A batch of juicy, tender air fryer mushrooms is the perfect dinner side! They're tossed in a garlic parmesan sauce for savory, juicy flavor you won't be able to get enough of. Ready in 10 minutes, there's no better way to make them!
Ingredients: mushrooms, olive oil, soy sauce, grated parmesan, garlic powder, fresh thyme, salt, pepper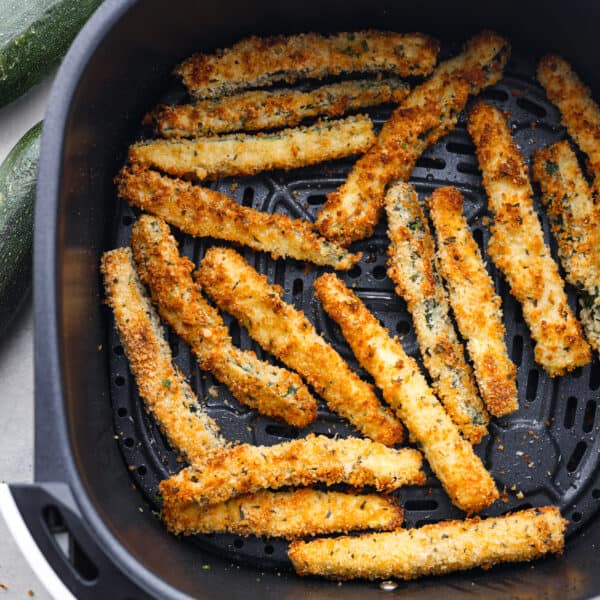 Air Fryer Zucchini Fries
Air fryer zucchini fries are a low-carb, keto-friendly snack that's ready in minutes! Crispy and cheesy on the outside, tender on the inside, this is the best way to use up your leftover summer zucchini.
Ingredients: small zucchini or 2 large, panko crumbs, grated parmesan cheese, Italian Seasoning, garlic powder, salt, flour, eggs, water
Air Fryer Hard Boiled Eggs
These perfectly cooked air fryer hard-boiled eggs will blow your mind! Convenient, quick, and easy to peel every time, they will be your go-to for some quick protein for any meal! 
Ingredients: Eggs, Cold Water and Ice
Air Fryer Cauliflower Wings
This low-carb take on wings is going to rock your world! Draped in a sticky-sweet honey buffalo sauce, these easy air fryer cauliflower wings are absolutely to die for!
Ingredients: head cauliflower, flour, paprika, garlic powder, onion powder, chili powder, salt, pepper, optional: pinch red pepper flakes, milk, Franks Buffalo Sauce, honey, Brown Sugar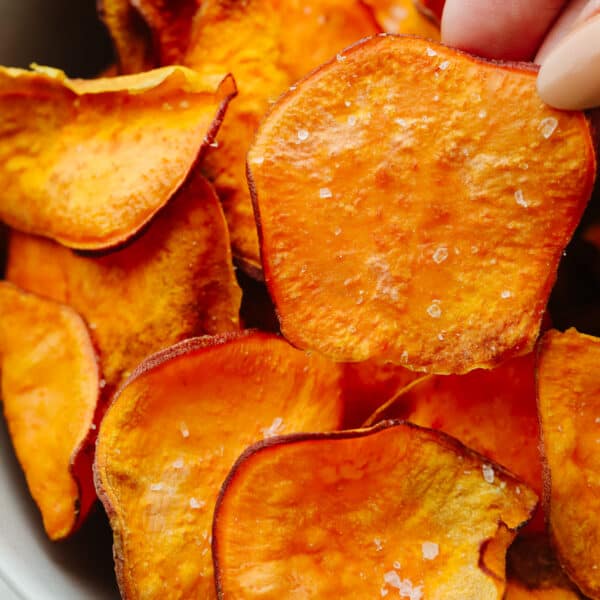 Air Fryer Sweet Potato Chips
Air fryer sweet potato chips are the most delicious, crunchy snack! They are SOO good and much healthier than the store-bought version! This homemade favorite is something you can munch on all day long!
Ingredients: sweet potatoes, olive oil, salt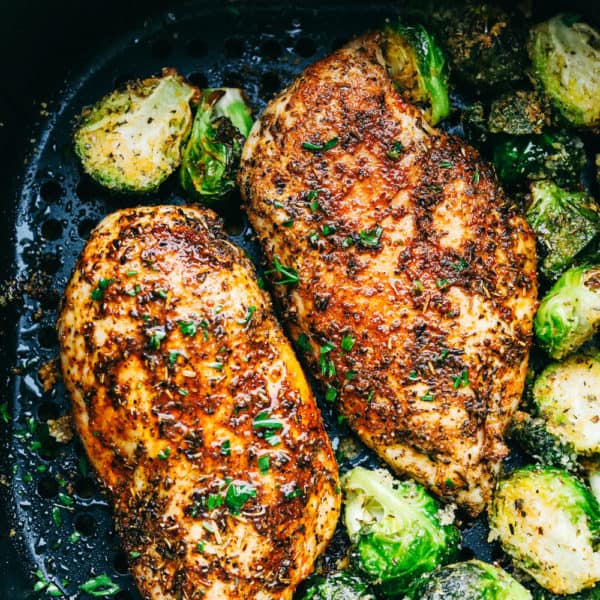 Tender and Juicy Air Fryer Chicken
Tender and Juicy Air Fryer Chicken is golden crispy outside and moist and delicate on the inside. This is bursting with flavor and so good! 
Ingredients: boneless skinless chicken breasts, olive oil, Italian seasoning, garlic powder, paprika, salt and pepper, optional: brussels sprouts
Air Fryer Falafel
Delicious air fryer falafel is a healthier and easier version without having to fry anything in oil. With a crispy outside shell and a tender center, this falafel is packed with flavor and nutrition.
Ingredients: Chickpeas, , Parsley, Cilantro, Onion,, Garlic,, Cumin, Salt, Pepper, Jalapeno, , Baking Soda, Flour
Crispy Air Fryer Chickpeas (3 Ways!)
Air fryer chickpeas are crispy and flavored to perfection! With three different ways to season them, there will be a flavor for everyone. These crunchy, roasted chickpeas will become your new go-to snack!
Ingredients: of chickpeas, olive oil, garlic, salt, paprika, pepper, of Chickpeas, Olive Oil, Parmesan, Garlic, salt, of Chickpeas, Olive Oil, Homemade Taco Seasoning
Air Fryer Tofu
This Air Fryer Tofu is super crispy and full of flavor. The tofu is so easy to cook in the air fryer, it is a must try!
Ingredients: block extra firm tofu, soy sauce, sesame oil, Cornstarch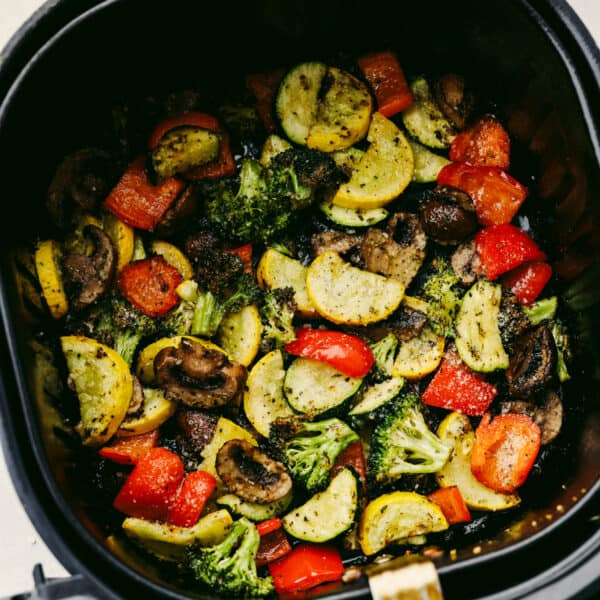 Air Fryer Vegetables
Cooking your vegetables in an air fryer doesn't get much easier (or more delicious!) than this! Crispy and tender, these veggies will be the best side dish that you've ever had! 
Ingredients: broccoli florets, red bell pepper, mushrooms, zucchini, yellow squash, olive oil, Italian seasoning, grated parmesan cheese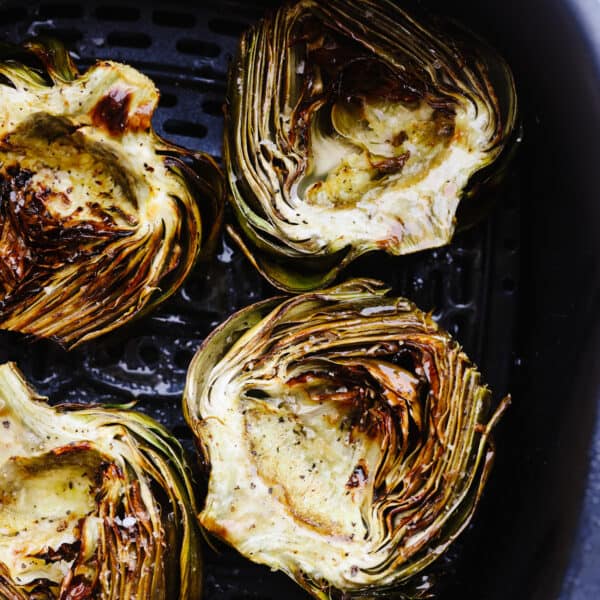 Air Fryer Artichokes
If you are looking for a simple and delicious way to cook up your artichokes that is quick and easy, then these air fryer artichokes are just for you! Cooked to perfection, these will be your new favorite vegetable! 
Ingredients: artichokes, olive oil, lemon, kosher salt, pepper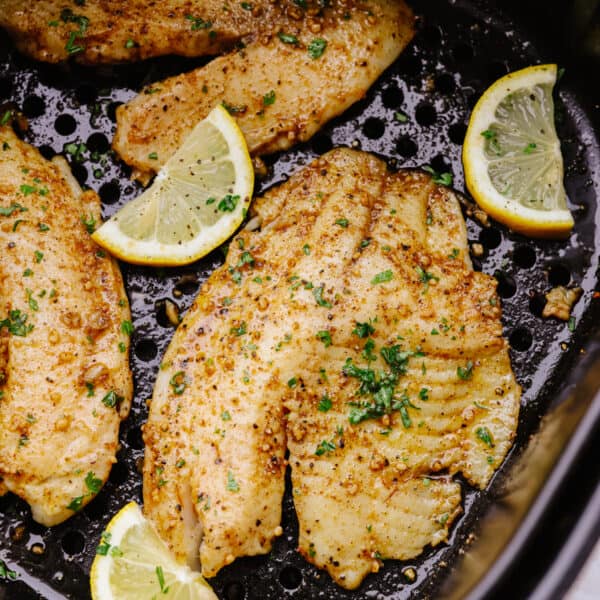 Air Fryer Tilapia
Using an air fryer and Cajun spices is the best way to cook up this tender fish! This air fryer cajun garlic butter tilapia is so easy and delicious, it's sure to become a new favorite lunch!
Ingredients: tilapia fillets, salt and pepper, butter, melted, olive oil, garlic cloves minced, Cajun Seasoning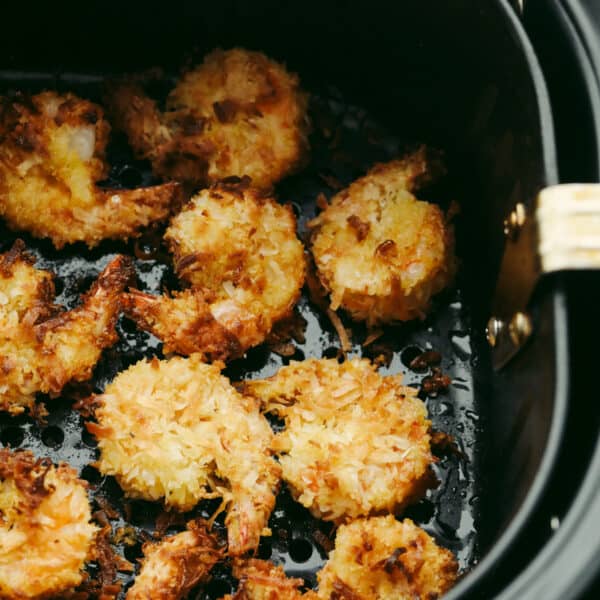 Insanely Delicious Air Fryer Coconut Shrimp
Coconut shrimp are insanely delicious! One of the best appetizers out there, these mouthwatering air fried coconut shrimp are crispy, lightweight and completely delightful! This appetizer is one that is sure to have your guests coming back for more!
Ingredients: large shrimp about 25, eggs, flaked unsweetened coconut, panko breadcrumbs, all-purpose flour, garlic powder, paprika optional, Salt and freshly ground black pepper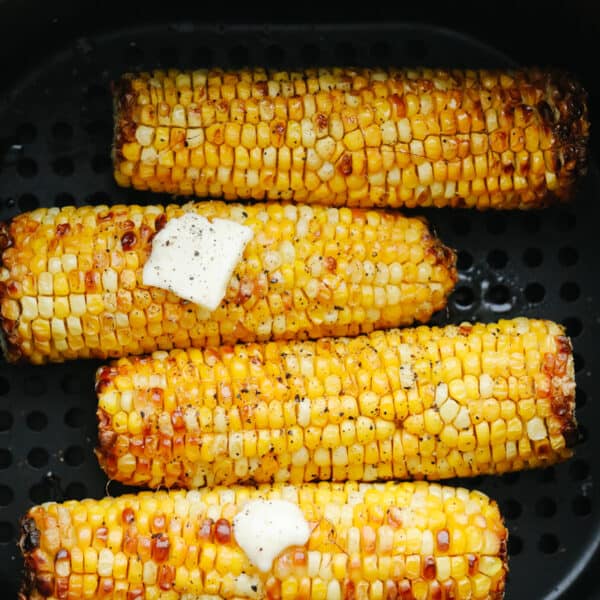 Air Fryer Corn on the Cob
Air Fryer Corn on the Cob is going to change the way you cook corn. Super fast, tender, and full of toasted corn flavor air fryer, corn is insanely delicious.
Ingredients: ears of corn, olive oil, salt and pepper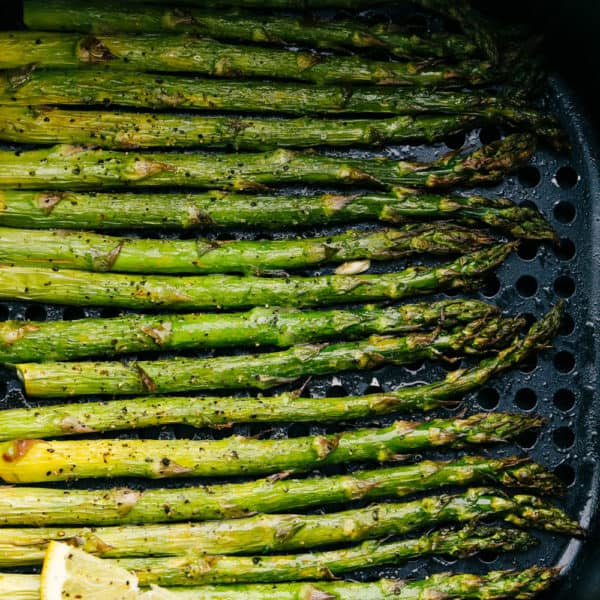 Air Fryer Asparagus
Air Fryer Asparagus is crisp, tender and delicious. This is hands down the best way to roast asparagus!
Ingredients: stalk asparagus, olive oil, juice of half lemon, salt and pepper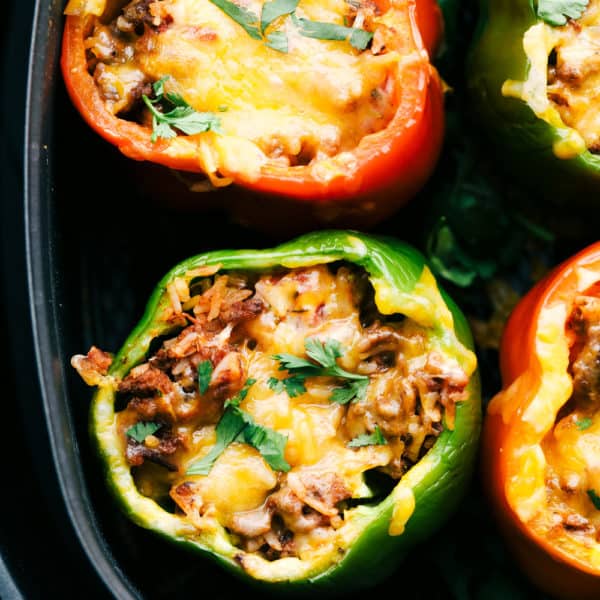 Air Fryer Stuffed Peppers
A super easy and delicious dinner begins here with Air Fryer Stuffed Peppers. Filled with a savory mixture and cooked to tender perfection, it is going to be a family favorite!
Ingredients: bell peppers, olive oil, onion, lean ground beef, diced tomatoes, tomato sauce, rice, Italian Seasoning, garlic powder, salt and pepper, Colby Jack cheese
Crispy Parmesan Air Fryer Brussels Sprouts
Crispy Parmesan Air Fryer Brussels Sprouts are super easy, packed with flavor and have tasty golden crunch. This is going to be one of the best ways to get your kids to say "More Please!" when it comes to their veggies. These are just that good!
Ingredients: Brussel sprouts, olive oil, salt and pepper, parmesan cheese, panko bread crumbs, Italian seasoning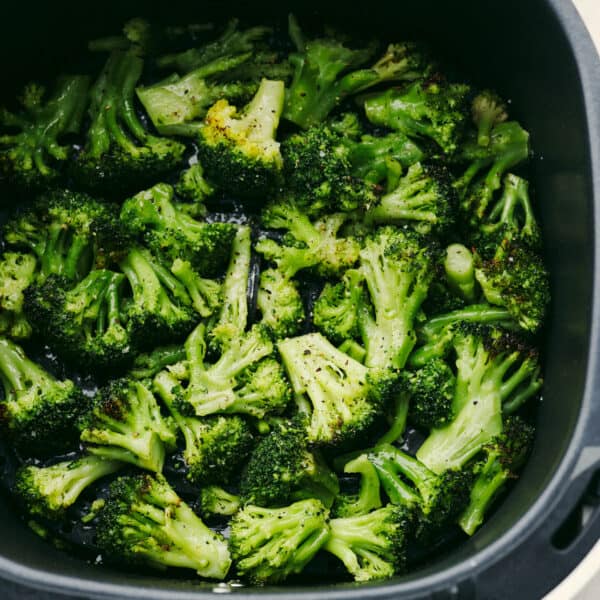 Air Fryer Frozen Broccoli
Air fryer frozen broccoli is so easy and delicious! Whip up that classic roasted broccoli texture and flavor with no mess (and in under 10 minutes!) so that it can go with any meal! 
Ingredients: Frozen Broccoli Florets, Salt & Pepper to taste, Olive Oil,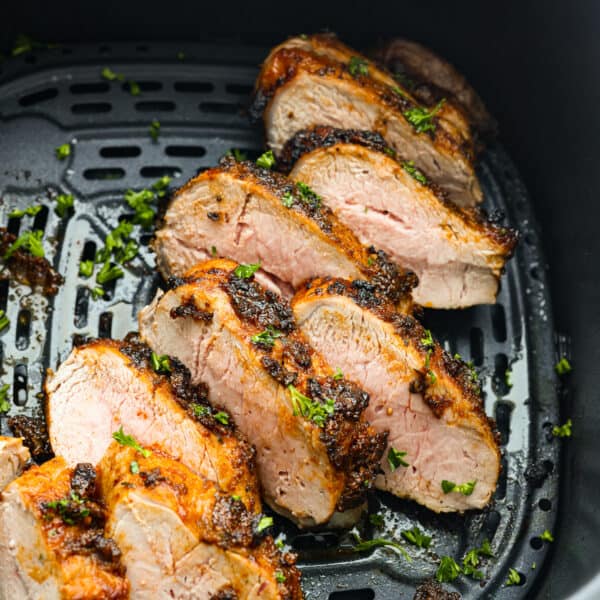 Air Fryer Pork Tenderloin
Dinner is always easier in the air fryer and this tender and juicy air fryer pork tenderloin will be the hero of your next weeknight meal. Lean tenderloin marinated in a delicious spice blend gives your pork an amazing flavor.
Ingredients: Pork Tenderloin, Olive Oil, Garlic,, Brown Sugar, Chili Powder, Cumin, Onion Powder, Dried Thyme, Kosher Salt, Pepper