Ordering takeaway and supporting small businesses isn't a bad thing, but having a pile of Domino's boxes to the ceiling is probably not the most sustainable thing. It's also expensive.
That's the reason I started cooking for myself a lot more. To make food a bit more affordable. And cooking for your mates is such a nice thing to do, particularly when you're on the dole or you're a student or you haven't got much money.
When you're young and you're starting to learn to cook things, you can get wounded pretty quickly. The ground rule is not to give yourself a hard time if you fuck it up.
Just start with a couple of basic things. Once you kick that goal and you see the smile on the face of your friends or your partner or yourself in a mirror, it's worth it. And good food is worth it because it doesn't ask anything of you in that moment of eating.
There's not many things on the Earth at the moment that don't stress you out. Food shouldn't be one of those things. It should be a happy place. You've got it in ya, give it a crack.
Roasting was a big thing that changed food for me. At the time I was living with eight, sometimes over 10 people. It was cheap to buy a chicken and veggies and it could even go around the house – you can just get five bucks off everyone and I guarantee you can cook a roast dinner for everyone for 50 bucks, no worries.
People get scared of chicken … you've got to cook it properly. Get a meat thermometer – it's cheap, and a kick in the arse. You can stick it into the thickest part of the chicken and at 75C, you're good to go.
Just get the chicken, cover it in paprika, oil and salt. Put an orange and a bit of thyme in it and sit in on a bed of onions or carrots or both. Tip a little bit of stock in the pan and put it in the oven – I usually do 200C, but 180C fan will probably get you there – for an hour and 15 minutes to an hour and a half, depending on the size of the chicken, and baste it every 20 minutes with the stock. It is a killer every time. My tried and true.
You buy the jar of sauce and it's what, four or five bucks? Or you could buy a tin of tomatoes and it costs you 70 cents.
I like whole peeled tinned tomatoes rather than diced ones, but that doesn't heaps matter. Fresh tomatoes is a ripper go, if you can be bothered – just squeeze the seeds out. Onions, a bit of garlic, fry them with a little bit of butter; tip in your tomatoes, put in a bit of basil if you want, a bit of salt, and that's kind of it. If it's tasting a bit tart (that's why I like the whole peeled tomatoes, they tend to be a little less tart) you can just put a teaspoon of sugar in.
I call this sin bin soup on my YouTube channel, because we've sin-binned the premade cup-o-soup shit. It's one I made heaps when I was younger, and it was really cheap.
Leeks are fairly intimidating looking, but they're just sweet onions, really. You've got to remember to cut them in half and rinse the dirt out though, otherwise you end up eating half of Bondi beach.
But it's easy. Just lots of garlic, a kilo of potatoes, three leeks, an onion and chicken stock. You fry your onions, leek and garlic in a bit of butter, you put your potatoes in, and you fill it with stock until it covers the potatoes. Boil it until it looks cooked, stab a fork into the potatoes and if it's fallen apart: let's go. Then blend it. You can put rosemary, you can put thyme – whatever's going on in your back yard. Maybe not thistle.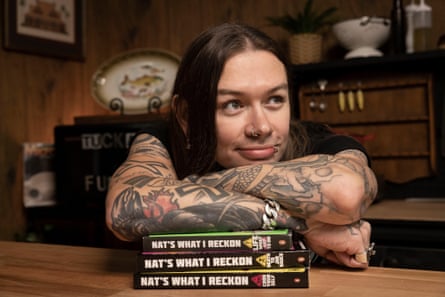 If someone's bought a takeaway and there's leftover steamed rice the next day, if that's been in the fridge, that's the perfect fried-rice rice.
Just throw a handful of whatever veggies you want in the pan in a little bit of oil – I like sesame oil, but I got told off by Uncle Roger, so maybe it's a bit of veggie oil. Just a little bit of soy sauce and oyster sauce. Both of those things are really cheap, but take it easy so you don't blow your head off with salination. I like throwing an egg in the pan beforehand to just scramble it quickly, or you could even just throw it in at the same time as the rice. It depends on how you like it.
Ceviche is laughably easy. There's lots of types but my favourite one has fish, cucumber, shallots, spring onions. Plus lime juice, I use a tablespoon of Tabasco and a bit of salt.
Get a slap chopper from As Seen On TV. You just slap-chop the whole thing. Just dice it all up, throw it in a bowl, cover it in a drizzle of olive oil and heaps of lime juice. Then I'll stir it through, bang it in the fridge for half an hour, pull it out and eat it with corn chips. Happy days.
Everyone loves a brownie. I'm sure there's some magical ratbag living with you who wants to make some exciting butter to put in the brownies. But brownies are a classic smash hit, and they're pretty easy to make too.
The first part of the recipe is to melt chocolate with butter – I like dark chocolate – and just put orange rind in there. But you'd be surprised how many people you get offside by putting orange with chocolate. I made it on my YouTube channel… and the comment section blew up. It was like: "How dare you." It's like the coriander conversation. There are people out there just willing to lose their shit over you adding orange to chocolate.
It's a fairly straightforward recipe. It's just a whole lot of chocolate and a bit of flour, a bit of cocoa, and salt with sugar.
Nat's What I Reckon's winner winner chicken dinner – recipe
I made 13 of these for a mate's wedding once in 36C heat. I cooked them in a tiny portable wood-fired pizza oven on the back of a trailer. The oven was way too hot and could only fit three chickens in it at once, but they all turned out perfect and everyone loved them.
The only failure was when I carried out the last tray of carved chicken to the guests, tripped on a guide rope for the reception tent and threw chicken all over the lawn. Devvo.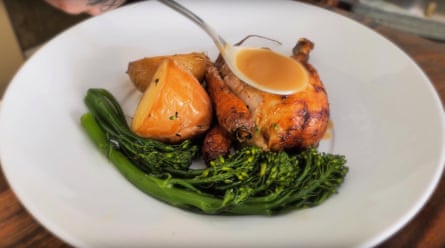 Serves 4 to 6
Cooking 1½ to 2 hours, depending on the size of your chicken
1 free-range chicken (any size)
2 red onions
Garlic
Butter
2 oranges
Thyme
Olive oil
Salt and pepper
Smoked paprika
Chicken stock
Vegetables suitable for roasting, such as potatoes, carrots and pumpkin (optional)
1½ tbsp plain flour
You'll also need: cooking twine
Get the oven cranking to 200C (180-190C if it's fan-forced). Grab that chicken and pat it dry with some paper towel inside and out. Make sure there aren't any guts in it, and if there are then remove them.
Peel and slice your onions into thick rings and line a baking dish with them. Peel a couple of cloves of garlic and slice into thin flat slices.
Next comes a trick you might not have done before, but it's easy once you've done it a few times: try to lift the skin off the breast and stuff the butter and garlic between the skin and flesh.
Get the chook breast-side up with the drumstick end facing you. In the middle will be the highest part of the breast. Gently lift the skin upwards from the furthest tip of the breast so you see it come away from the flesh slightly.
Using your finger or the underside of a dessert spoon (being careful not to tear the skin), try to get into that gap to further loosen the skin from the meat – you may need to bust through a thin layer of adjoining skin to make it, but you should be able to create a little pocket on both the left and right sides of the breast bone, leaving the middle seam intact.
Then stuff that with as much butter as you like (a tablespoon-ish each side should get you out of trouble) and squeeze those flat slices of garlic in too (about a clove or two on each side).
Ripper. Now cut one orange in half and bung one half in the cavity of the chicken with a bunch of peeled garlic. Slide in a bunch of thyme on top of it all.
Cover the whole bloody chicken with olive oil, salt, pepper and paprika. Give it a good rub till the whole bird is red with the paprika.
Now place the chicken on the onions and cut yourself enough of a length of cooking twine to tie the legs together. You don't need to bind them over each other so it looks like it's being held hostage, trust me – it won't escape the oven: just enough to hold them against the breast.
With the remaining orange, squeeze the juice into the dish and pour about a centimetre of chicken stock into the tray.
If you're serving roast veggies with the chicken, parboil them in a saucepan of water and fang them into their own tray and toss them with some olive oil, salt, pepper and thyme.
Bung it all in the oven. Now every 20 minutes, baste the chicken with the pan juice. Don't skip this shit, it's a power move.
Depending on its size, the chicken will be cooked in about 1¼ to 1½ hours – reckon on about 25 minutes per kilo. You'll know when the chicken is done because when you poke the thighs with a knife, clear liquid will run from them. If you wanna play it safe and have a fancy meat thermometer, jab it into the chicken breast and if it reads 75C or more you're safe as houses.
Once that's sorted, remove the chick from the oven and let it rest. If your veggies aren't brown enough for ya, then crank the heat up a bit while the bird relaxes.
To make the gravy: sieve or strain the remaining pan juices into a bowl and spoon out the fat that settles on top. Get a saucepan with a tablespoon of butter melting and stir in the flour, cooking this paste for about a minute (try not to burn it). Then slowly introduce the remaining pan juices a bit at a time and whisk together over a medium heat. Add more chicken stock if you run out of pan juices or want it a bit thinner.
Remove veggies from the oven if ya made them. After you carve your bird, squeeze the orange from the cavity of the chicken over the meat. There ya have it. Perfect every time chicken … so eat it. Tell me it's not the best you've ever had, I bet ya won't.
Nat's What I Reckon's frownie reversal orange chocolate brownie – recipe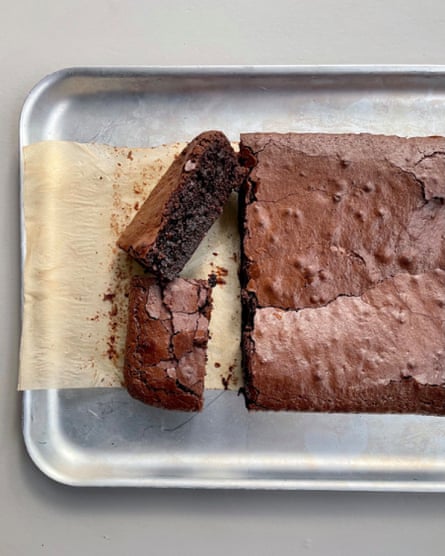 Brownies and orange-flavoured chocolate have a reputation for being simultaneously awesome and indulgent and, to be fair, a little old school too. I remember orange chocolate being one of those things that would blow my little mind as a kid, while pumping my lolly bag at the cinema full of enough Jaffas to frighten most parents. I have vivid memories of thinking that every time I ate chocolate with orange in it, those were probably some of the best times of my life. So let's make memories and blow minds with the best brownie in town. (PS If you don't like orange chocolate, just don't put the orange in the brownie, lol.)
Serves 6 to 8
Cooking a bit over an hour
1 large (or 2 small) oranges, zest only
200g butter
100g dark chocolate, broken into pieces. Go as dark or as less dark as you like, 70%+ seems to go pretty good. (Don't buy shit dark chocolate. Get something with a label on it that looks like it drives some kind of old Fiat. OK, talk over.)
1 cup plain flour
⅓ cup cocoa powder
½ tsp baking powder
Pinch of salt
1 cup caster sugar
1 cup brown sugar
4 eggs, lightly beaten
2 tsp vanilla bean paste or vanilla extract
Nobody move … until the oven is turned to 150C fan-forced (170C conventional).
You're going to need a 18cm x 28cm baking tray/slice pan thingy. Line it with baking paper, leaving any excess hanging tough over the edge.
If you have a precious microplane (not a small aircraft) or grater, grab it, and on the finest setting zest the orange/s into a bowl.
Grab a little pot or pan and melt the butter and chocolate over a LOW heat. We don't want to boil it, Satan, cause that will be a shitshow. Keep stirring it, emphasis on the words keep and stirring. Don't stop but gently Bentley, remembering easy does it as we calmly melt butter and sugar together.
When that serene moment has arrived where these two ingredients are getting along just fine, in with the orange zest and then set aside to cool off.
Sift your flour, cocoa and baking powder into a bowl with a cheeky pinch of salt. Add in the sugars and give it a good mix together please and thank you. I don't know how many recipes you've read that thank you for doing the shit in them, but this one does.
Make a hole in the middle of all that powdered shit and add ya eggs , buttery–chocolate concoction and vanilla paste and give all that a good mix. My partner Jules likes to whisk the vanilla into the eggs first, because it's an easy way to tell that it's properly mixed through.
Now we are off to the races, groover. Tip all that radness gently into the tray, spread it out even Stephen and bung in the oven for 45 minutes or until just set in the centre. A good way to tell is to give it a gentle shake – ultimate brownie consistency is completely set on the edges, with a slight liddle jiggle in the middle.
Once our amazing creation is baked to perfection you must and I repeat fucken MUST let it chill. Look at a picture of a meadow, but pretty please let the brownie completely cool down. The reason I say this is because this mix loves a rest, and the thing's residual heat keeps cooking it for a hot sec too. Plus, if you jump the gun then it won't work out the way it should. (But tbh, it will still taste increds.)
Serve with nothing or even some cream and a light dusting of cinnamon if you like. Doesn't need it but hey, you might be feeling a little extra today.
Soak up the memories of eating way too many Jaffas, and love yourself sick.